CallCoach, The difference between a Sales Presentation Coach and a Webinar Analyst Sales Coach is in the Review Method
A Sales Presentation Coach





A Sales Presentation Coach uses experience plus Powerpoint slides to build from a near blank page to illustrate selling improvements. This is time consuming and most likely you will get their regular pitch or just a few tips per sales person.

A Web(ex)inar Analyst Sales Coach





Callcoach.com Software never has a blank page to work from. The Analyst watches the webinar and clicks boxes and the Coaching Presentation creates itself. A bit like with boxing when a judge notes when you have landed a punch or not.

Powerpoint slides pushes Coaches to regurgitate old presentations to support thoughts with no real reference to the performance at hand.

Callcoach.com Software deals specifically with the presentation that you are reviewing (either a Webinar or a Face2Face Sales Call) and is geared up to creating new dynamic data on the fly.

A Sales Coach's Powerpoint is too slow to develop event review presentations for bulk analysis. The time you built it you will have forgotten the main discussion points so coaches just write down a few pointers.

Callcoach.com software is geared up specifically to support a sales coach and is created by a webinar analyst. The sales coach can interact with this content and often does.

A Sales Coach's Powerpoint doesn't provide quantifiable data, they will sometimes record sales training sessions and give you on the fly feedback

Callcoach.com service approach is built around quantifiable data. The software graphically charts whether you are Audio - Visual - or Multimedia Centric in your presentation style. It grades you performance in different performance areas like mental attitude and records this as you go along the presentation so you can get an overall performance score or even check where you were good or poor.

A Sales Coach's Powerpoint may not have a structured coaching process built into how they present to a seller which means a new coach may use a new style/process each time so making it difficult to rate different sales people from the same sales team.

Callcoach.com service has a structured coaching process which means that all presentation reviews will have a consistency about them.

A Coach's Powerpoint has no timeline based functionality to link video files to actual real sales behaviours and happenings during a real selling events.

Callcoach.com software can also add Powerpoint Presentations or Videos files to the supporting presentation and then link them to a specific part of a sales webinars timeline.

Coaches have to mentally pull out coaching tips from their repertoire when they see you.

Callcoach.com service has tips and hints already pre-built into the system for quick enforcement of sales techniques and methodologies plus you will see your own recording at the same time.
One thing that stands out to me is that the vast majority of sales coaches look at 'general performance indicators' rather than looking at the science of performance analysis.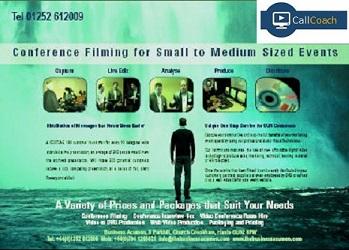 CAPTURE THE EVENT
ANALYSE THE EVENT 
 

Attend Event Organiser Briefings
Full Filming Service to Suit
Equipment Setup & Props
Filming Logistics Analysis
Audience/ Presenter Customer Care
Rehearsal Service
Notational Assessment
Event Photo Taking
Secret Shopper Attendance (Notational Capture)

Performance Review
Notational Assessment of Speaker Performance
Audience Questionnaires
Audience Reaction Assessed
Criteria Matching: Spoken against Planned
Event Factors Analysis, Venue, Room Layout...
Webcasting Performance Review
Multicamera or Single Camera Video Editing

 
 
 

PRESENT FEEDBACK

 

TRAIN THE PRESENTER

 

Coaches Review of Performance using Supercoach Software
Company Representative Review of Performance
Our Performance Review against Company Appraisal Criteria
Audience Opinions
Audience Makeup
Audience Requests...

 

Coach Trains Presenter using Video Analysis Techniques...
Incorporate Company Training Techniques, NLP....
Provide a Variety of Training Workshops or Services
Create Training/Sales/Marketing Content with Video Assets...
Train the Presenter
Performance Assessed Against Sell2Buy Presentation methodology, presentation techniques.

 
 
Callcoach.com provide filming/editing/web/intranet/extranet services to back up company initiatives for better sales performance enhancement. CallCoach.com can provide the services of a fully qualified graphic/audio visual designer to help with on-the-fly improvements to demos, scripts, Powerpoint presentations or even whiteboard videos. (See example of our work on Youtube)
Callcoach.com provide extra TV/multimedia services that are not part of the standard online service or just the secret shopper review service. A full workshop cost such as filming events for websites or post-event analysis, making a memory stick of the event... can be undertaken. Call for a price on 01252 612009 or get in contact.